As a pioneer in the In-Vitro Diagnostics market, DIRUI Medical is dedicated in keeping offering advanced diagnostic equipments and reagents for customers. Through cooperating with local partners, DIRUI starts global marketing promoting plans for Urinalysis Systems, Chemistry analyzers, and Hematology products.
Belgium, located in central heart of Europe, is one of the world's largest commodity import and export countries. The successful promotion of DIRUI's products in Belgium results a huge influence in the market.
On May 21, 2015, the European Product Promotion Conference was held by DIRUI and its local co-operation partner. Several IVD experts and professionals and DIRUI's representative Mr. Chuck attended the conference together.
At the beginning, Miss Lobke, Product & Market Manager of DIRUI's Belgium partner hosted the meeting and delivered the welcome speech. The conference was conducted in a relaxing and pleasant atmosphere.
On behalf of DIRUI, Mr. Chuck introduced the company as well as the cooperation and development regarding the urinalysis products to the participants, and also shared the working principle and detailed introduction of the urinalysis products with audience. After his speech, Mr. Chuck interacted with the participants, answering their questions in a harmonious and friendly way. All doctors and distributors were satisfied with his answers.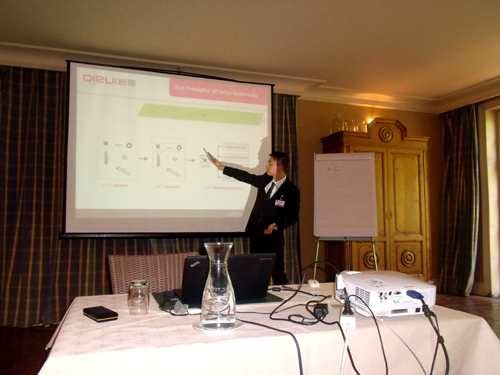 Mr.Chuck of DIRUI was introducing the company and products
Expert Dr. J. Gras, Saint-Luc, Bouge from Belgium made an objective and detailed test result data analysis comparison between FUS-200&H-800 Automatic Urinalysis System and a similar product of a well-known enterprise. Dr. J. Gras provided confidence for customers: comparing with competitors, DIRUI's product is more reliable.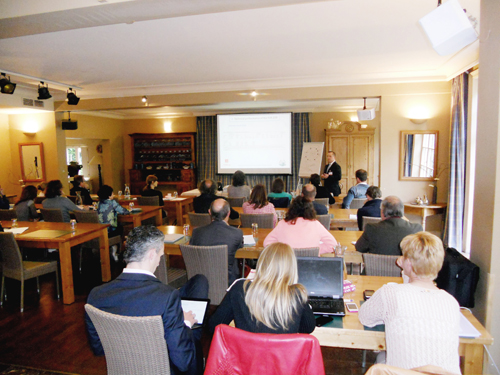 Belgian expert was comparing DIRUI's product with the product of other brands
Czechic expert Dr. Miroslava Benovska who engaged in the meeting by special arrangement knows a lot about DIRUI's FUS-2000 Urinalysis Hybrid, and shared her using experiences with the participants. Dr. Miroslava gave a very high evaluation of DIRUI FUS-2000 Urinalysis Hybrid. She drew a conclusion about its advantages after comparing with other companies' products: Firstly, the test accuracy of FUS-2000 is very satisfactory; Secondly, DIRUI's after-sales service is provided in a timely manner, fully meeting the customers' needs; Thirdly FUS-2000 offers big, clear images for the user; Moreover, FUS-2000 features beautiful appearance, compact size, no noise while working, etc.
Dr. Miroslava is very grateful to DIRUI for bringing so good device to her, and allowing her to enjoy her work.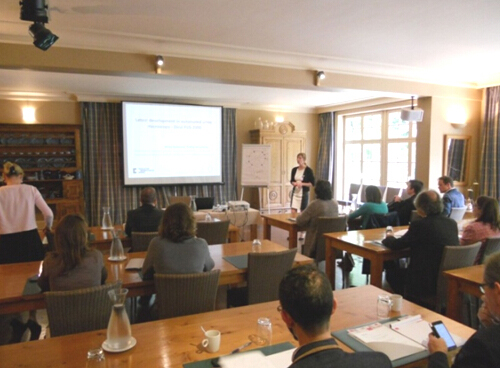 Czechic expert was sharing her experience in using DIRUI's FUS-2000
After the experts' explanation, the meeting came to the practical operation of FUS-2000. A technician of DIRUI's distributor demonstrated how to operate the device in detail and offered technical guidance to the participants while at the same time Mr. Chuck answered their questions on the spot. Several participants showed their intention to cooperate with DIRUI immediately as they recognized that DIRUI's products are reliable.
The technician of DIRUI's partner was demonstrating DIRUI's product on the spot

Mr. Chuck(DIRUI) and experts (first from right in left photo is expert from Namur, Belgium; second from left in right photo is expert from Czechic)
DIRUI's products shone innovatively in Europe, and the excellent performance won high praise from those Belgian customers. This European Promotion has achieved a profound effect. DIRUI will make sustained efforts to let the world know about its scientific charm!
DIRUI, a partner for life.